2023 Northeast Region Preview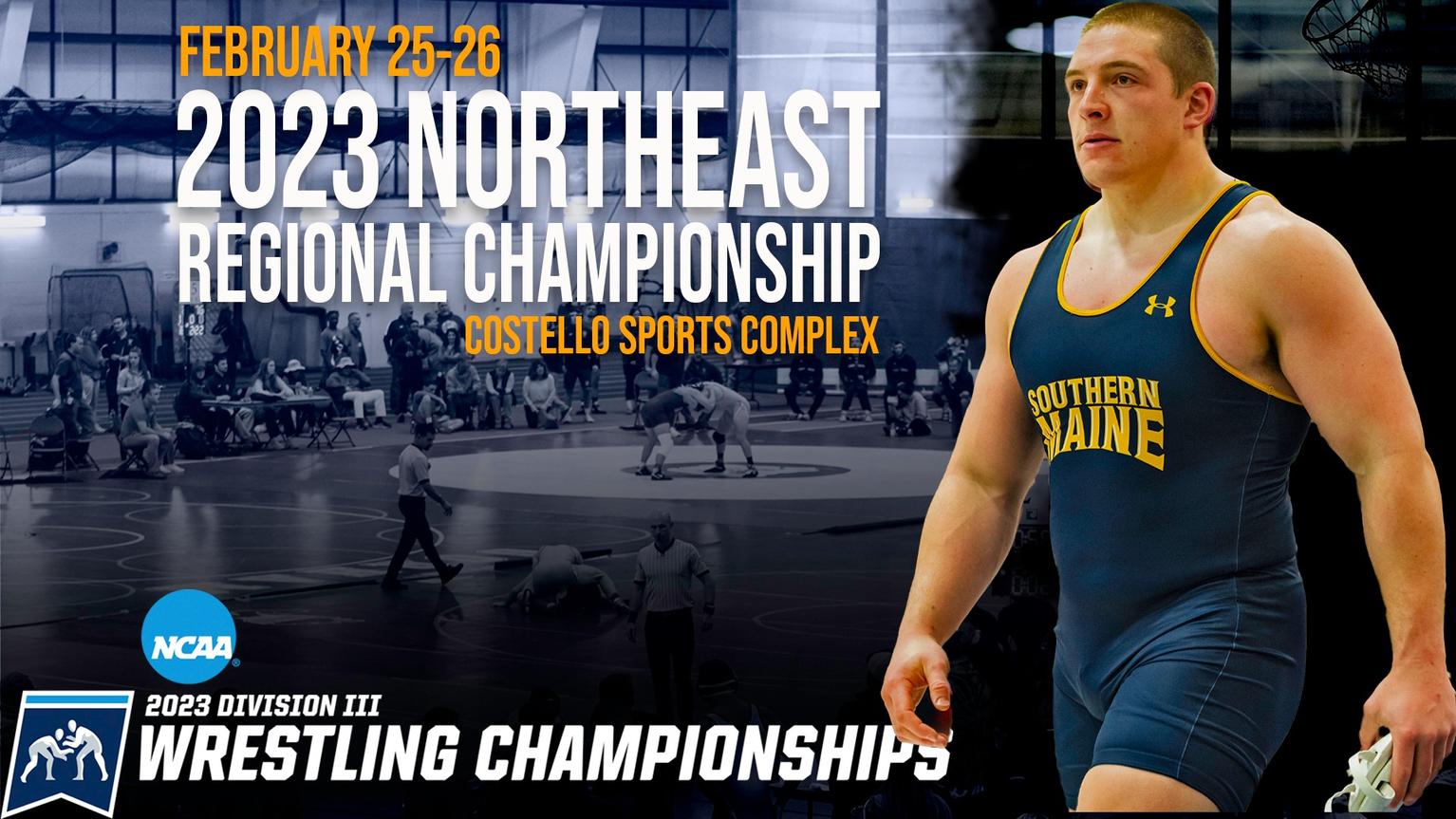 Saturday and Sunday, February 25-26, 2023
University of Southern Maine | Host Site | 2022 Results
Teams (20):
Bridgewater State, Castleton, Hunter, Johnson & Wales, New England College, NYU, Norwich, Plymouth State, Rhode Island College, Roger Williams, Southern Maine, Springfield, Trinity, US Coast Guard Academy, US Merchant Marine Academy, Wesleyan, Western New England, Williams, WPI
NWCA Ranked Tournament Teams
#2 Johnson & Wales
#10 Coast Guard
#14 Rhode Island College
#24 Southern Maine
Top 10 Ranked Individuals | February 16th Ranking (13 total)
125: #1 Fry (JWU), #4 Craig (Southern Maine), #8 Manginelli (Springfield)
133:
141: #6 Rodriguez (Castleton)
149: #2 Brown (JWU)
157:
165: #1 Lackman (Rhode Island), #8 Pontelandolfo (NYU)
174: #1 Ross (JWU), #6 Geyer (NYU)
184: #8 McCullough (Coast Guard), #9 DeVivo (JWU)
197: #2 Spooner (Coast Guard)
285: #9 Leka (JWU)
Contenders & H.M. (24 total)
125: Bogle (Castleton), Karachi (NYU)
133: Leo (JWU), Manginelli (Springfield)
141:
149: Frost (Southern Maine), Pagliarulo (Coast Guard), Parrott (Springfield)
157: Chapman (Coast Guard), DeGuire (Springfield), Kane (Williams), Hughes (JWU)
165: Angers (Castleton), Rochard (Coast Guard)
174: Fleming (Castleton), Gaita (Wesleyan)
184: DuPont (NYU), Morales (Bridgewater State), Shaughnessy (Roger Williams), Wilkins (Castleton)
197: Harr (JWU), Kelly (NYU), Cruz (Merchant Marine)
285: Anderson (NYU), Peavey (Southern Maine)
Johnson & Wales ends the regular season in the #2 tournament slot and will have a shot at hoisting the championships trophy in March. At the National Duals, they finished second to Augsburg after upsetting Wartburg in the semifinals. The Wildcats are the only team with multiple individuals ranked 1st at their respective weights in Joziah Fry and Michael Ross. Challenging JWU will be Coast Guard, last year's regional champions. NYU also has a strong team with six wrestlers mentioned in the final rankings.
Fry is at the top of a tough 125 bracket in the region, as #4 Craig (Southern Maine) and #8 Manginelli (Springfield) will look to lock down spots in Roanoke. Fry is 34-0 with just seven of his victories coming via decision. The Rhode Island native and Campbell transfer has been outstanding in his first season for JWU. Manginelli hopes to land on the podium this year after a narrow miss last season when a last second headlock ended his season in the All-American round.
Michael Ross at 174 joins teammate Fry at the top of the rankings. He has wrestled just 8 matches this season, but he does have a win over Wartburg's #2 Mulder, a repeat of their semifinal result in 2022. Ross began his career at Wartburg, entering the 2018 NCAA tournament as the #1 seed at 165. Injuries contributed to an 8th place finish. Last year, he finished 2nd in the NCAA championships, and he heads into the 2023 postseason hoping to earn the #1 seed at the NCAA tournament five years after doing so for the first time.
Nathan Lackman won a controversial NCAA championship at 157 last season, and he returns at 165 to aim for a second title. He is 31-3 and ranked #1 this year, with all three of his losses coming to DI competition at the Midlands where he finished in 6th place. He has been on a significant growth trajectory, moving from 120 as a senior to 141 as a freshman to 165 in 2023. His younger brother Matt is ranked #2 at this weight for Alvernia. There are a lot of matches between now and a potential all-Lackman NCAA final, but it is not a far-fetched possibility.